About The Course
Par 72
Blue Tee Distance – 6,051 Yards
(68.5 rating, 112 slope)
White Tee Distance – 5,634 Yards
(66.5 rating, 108 slope)
Gold Tee Distance – Over 5,000 Yards*
(TBD rating, TBD slope)
Red Tee Distance – 4,947 Yards
(68.9 rating, 113 slope)
*Gold tees were added in 2015. Rating, Slope, and Yardage are being re-evaluated; Scorecard will be updated and reprinted.
The front nine offers wide fairways, with medium size greens; while the back nine requires more accuracy off the tees, with larger contoured greens. This variety from the back to front presents a different, challenging, and yet enjoyable golfing experience each time you play.  There are NO sand traps on the course, but there are (6) ponds and several DRA's (Drainage Retention Areas).
The course also offers a putting green, driving range, and range balls for your practice needs.
Scorecard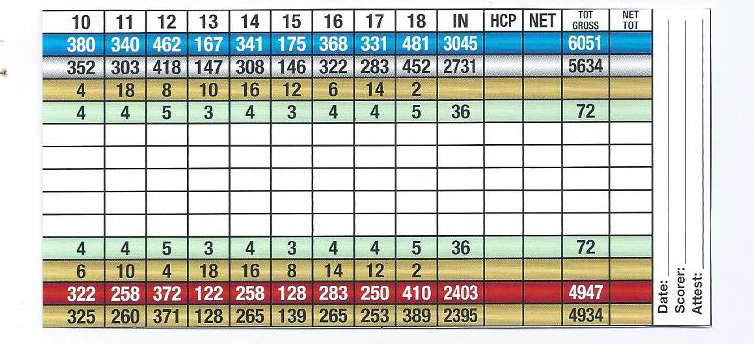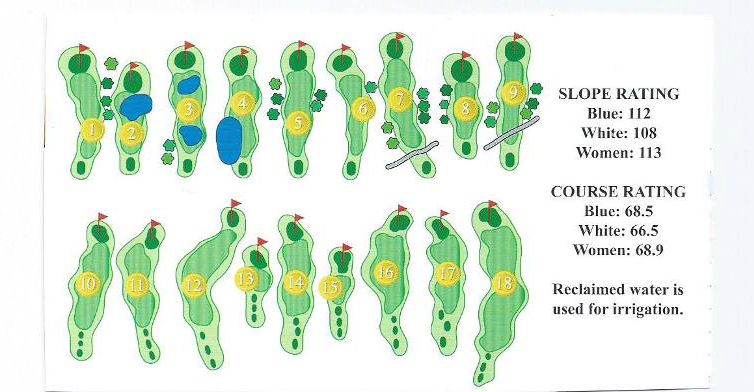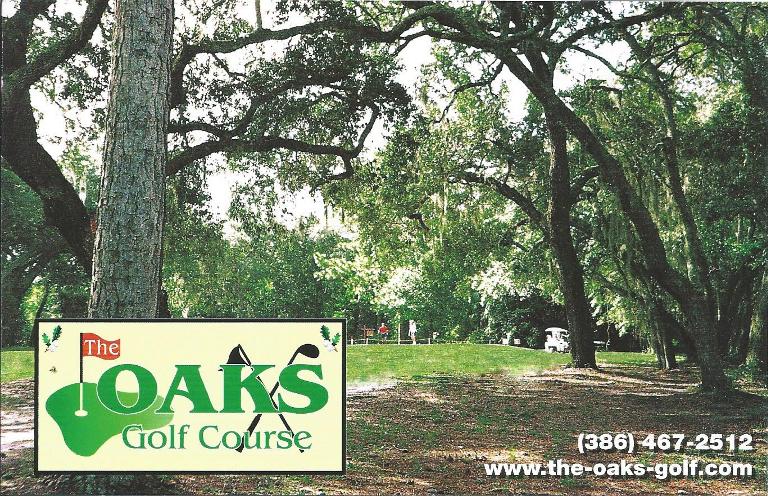 Other Activities
Golf Lessons
* Contact the Pro Shop for an appointment or more information.
* The instructor is a Certified member of the "National Registry of Professional Golf Instructors".
* Rates are very reasonable.
Co-Ed Scramble
A "CO-ED SCRAMBLE" (9 hole) is conducted EVERY WEDNESDAY AND FRIDAY AFTERNOON at The Oaks Golf Club.
Everyone is invited: men, women, couples, singles, and any age.
Sign-in at the clubhouse is 2:30 p.m., with "Shotgun" tee-off at 3:00 p.m.
The cost is $3 per person (that is not a typo); PLUS normal Greens Fee.
Teams of 3-4 players are established just before tee-off, by the "luck of the draw".
It is encouraged that teams be set based on the "luck of the draw", but partners/groups can be pre-established for relatives and visitors.
An optional "Closest to the Pin" feature is conducted each night, which costs an additional $1.00 per  person.
"OLD YELLER" marks the hole (you'll understand that when you see it).
Uniquely, this is based on each player's 2nd shot on the designated hole, NOT the tee shot!
This "twist" makes it achievable for ALL participants, regardless of skill level.
Each night 3-4 "places" are paid, based on the number of participants.
* Play alternates Front-to-Back, AND then reverses the next week (Back-to-Front).
* Contact Pro Shop if weather is questionable.
* At the "19th Hole", the Coordinator tallies the scores and pays the winners: 1) Team winners, and 2)"Closest to the Pin" winners.
* LOTS OF FUN IS HAD BY ALL, REGARDLESS OF YOUR SKILL LEVEL!